After you have clicked on the Options button you will see the following windows: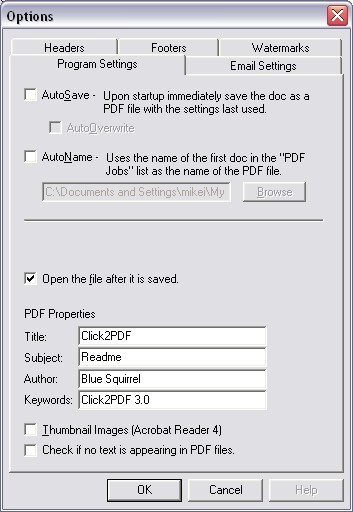 This window opens to the 'Program Settings' tab, and allows you to make global changes to all of the PDF files you create.

You can enable the following features from this window.

AutoSave - If you select this option, then as soon as you print, the PDF will be created, or you will be prompted for a filename (depending on the AutoName setting).

AutoOverwrite - If this option is checked, then you will not be prompted when a filename is the same as an existing file. The program will automatically overwrite the existing PDF file. This is very useful when used with AutoName. You can create a PDF from a document with the same name every time.

AutoName - Names the PDF based on the job title of the first document printed. Unknown characters become underscores ("_"). If you choose AutoName, you should set the directory to store the .PDF files. You can use the 'Browse' button to set the location that you would like your PDF files saved to.

Open the PDF file after it is created - This will automatically launch your PDF file in the Adobe Reader (if installed) after the PDF file has been generated.

PDF Properties (Title, Subject, Author, Keywords) - These are put into the PDF file. If you choose File->Document Properties... in the Acrobat Reader, you will see these values. They are completely optional.

Thumbnail Images - Check this option if you want your PDF file to have Thumnail Images when viewed in Adobe Acrobat Reader version 4.x.

Check if no text is appearing in PDF files - You can use this option to convert a file into a PDF, if there was a problem with the initial conversion.