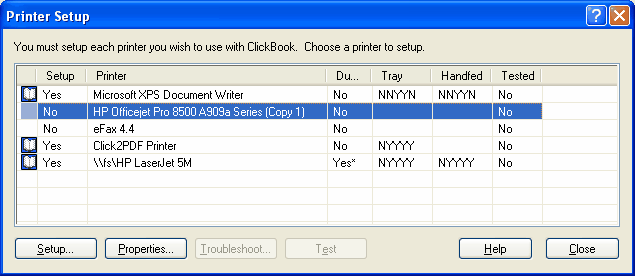 Every printer that you use with ClickBook must be set up. This tells ClickBook how your printer handles paper. This is necessary to do double-sided print jobs, and so ClickBook can print in the right order.
If you see the

(icon) next to your printer it means the printer has already been set up with ClickBook.
The printer setup in ClickBook MMX has been enhanced and is much more intuitive.
To setup your printer highlight your printer and click the 'Setup' button. This will launch the Custom Printer Setup and take you through a step-by-step process where you print some pages, re-insert the paper and then identify the images. Using the information that you provide the program sets up your printer for use with ClickBook.
After you have setup your printer, you can highlight your printer and click on 'Properties'. Alternately, you can double click on your printer to open 'Properties'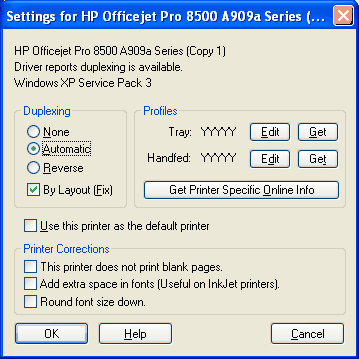 The properties box provides printer information as reported from the print driver. From the properties box you can make printer corrections and edit the printer setup manually. You can set your printer's duplexing options.
To edit the printer setup manually, click the 'Edit' button next to 'Tray'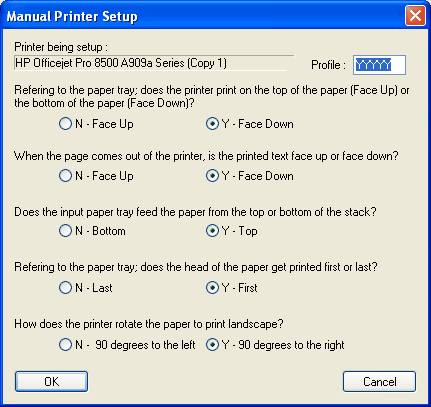 This option lets you answer some questions to provide information to ClickBook about your printer and how it handles paper.
Remove - Allows you to remove any printers that have been setup for use with ClickBook. When you select the printer and click remove, the 'Setup' button changes to 'Remove'.
NOTE: Removing the printer from the ClickBook setup only removes it from ClickBook not from your computer.
Properties... - Set the unique properties of each printer. Does it duplex (print on both sides automatically)?