Spam Sleuth has the ability to log information which can be helpful in identifying configuration problems.

Open Spam Sleuth and hit CTRL-ALT-L to set the logging level.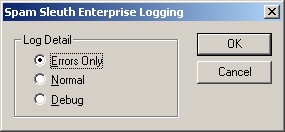 Errors Only – Logs errors for use in tracking problems.
Normal – Logs information about start-up, accounts and shut-down.
Debug – Logs the detail of the conversations between e-mail programs and servers. Passwords are not logged even in debug level.